The best ice cream parlors in Barcelona
If you have already made the route for the best tapas in the city, it is the turn of ice cream, especially during the coming months of heat in the Catalan capital. Artisan, signature, Italian, Japanese, for all tastes and preferences!
1.- Cremeria Toscana: Undoubtedly, one of the best ice cream parlors in Barcelona. Located in the center, specifically in Muntaner 161, its specialty is artisan ice cream and sorbets with fresh seasonal products, prepared daily. This ice cream parlor was created by Andrea Giuntoli, born in Milan, but with Tuscan origins. His promise is variety, quality and reliability. Best of all, this place is open until 24:00 hrs Friday and Saturday and until 23:00 hrs on Sunday. More information at https://cremeriatoscana.com/
@cremeria_toscana
2.- Parallelo: an artisan ice cream par excellence. Created by 3 friends passionate about gelato, Matteo, Marco and Francesco, they promise to surprise you with every bite. Their pillars are craftsmanship and proximity. They make everything themselves, "We are artisans in the strict and traditional sense of the word, we do not receive or use any finished product. No processed hazelnut paste: we roast them ourselves and make the paste", they emphasize. You can't miss their place located at Carrer de Séneca 18. More information at https://parallelogelato.com/consejos-para-disfrutar-del-helado-parallelo/
@parallelogelato
3.- Baboia: This ice cream parlor is characterized by its exotic and original flavors, typical of Catalonia, since in this region there are all the ingredients and raw materials to have the best and most varied cuisine. You can be delighted with unique and original flavors such as gazpacho ice cream, ratafia or coca de San Juan. They can literally make an ice cream out of anything. There are no limits. We invite you to visit them at Canvis Vells 2, in the heart of El Born.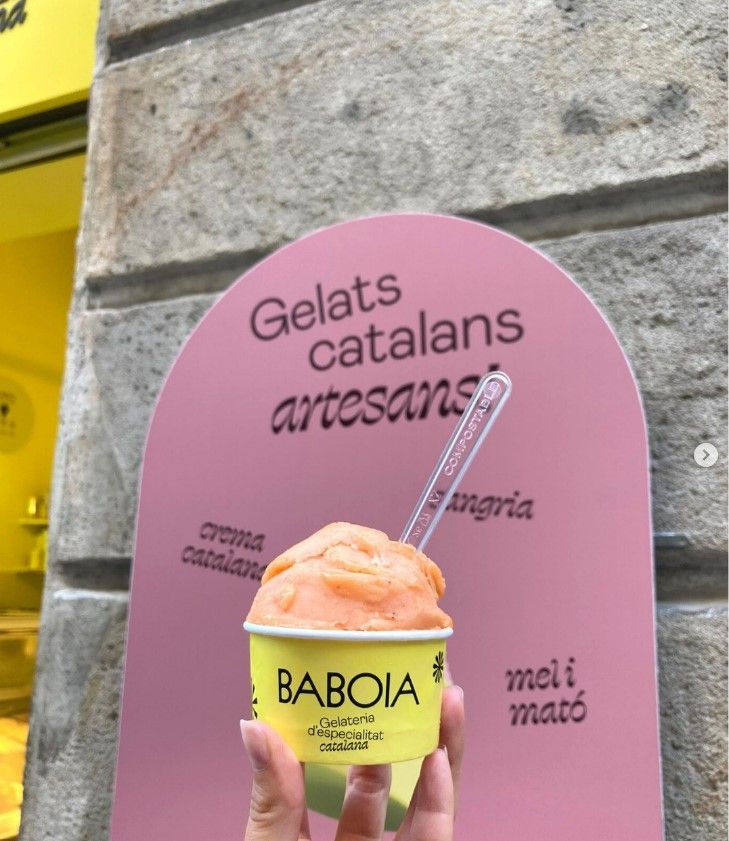 @baboia.gelateria
1.- Kurimo: this unique ice cream parlor was created by Takashi Oshiai, one of the great master pastry chefs of Barcelona. Thanks to his trajectory and experience, he wanted to open an ice cream parlor with the help of Andrea de Belis, a specialist in artisan and traditional Italian ice cream. These ice creams are characterized by their creative taste, as they mix Japanese flavors with traditional Italian ice cream. We recommend you try the Matcha ice cream with Taiyaki or the black sesame ice cream; the flavors are amazing! You can find them at Carrer del Comte d'Urgell, 116. For more information, visit https://shop.ochiaipastisseria.com/ca/pastissos.
5.- Obrador DeLaCrem: "We are artisans, curious and sweet-toothed'', this is how they define themselves in this iconic ice cream shop in Barcelona and they have certainly proved that they are. Its creator, Massimo Pignata, originally from Piedmont, opened the shop in 2010 and since then they have become a benchmark of "Slow Food'' with creative flavors made with local products. You can find it in Enric Granados 15 or Paseo de San Joan 59. More information at https://delacrem.cat/delacrem/
@delacrembcn
6.- Gelaaati Di Marco: Undoubtedly, one of the best ice cream shops in Barcelona. It is an authentic artisan ice cream under the supervision of the master ice cream maker Marco di Consiglio, from an Italian family of ice cream makers. Their products are made with fresh and top quality products, without colorings or hydrogenated fats and with lots of flavor. You can find them in Llibreteria 7. More information at https://www.gelaaati.com/es/heladeria-italiana-en-barcelona.html
@gelaaati_di_marco