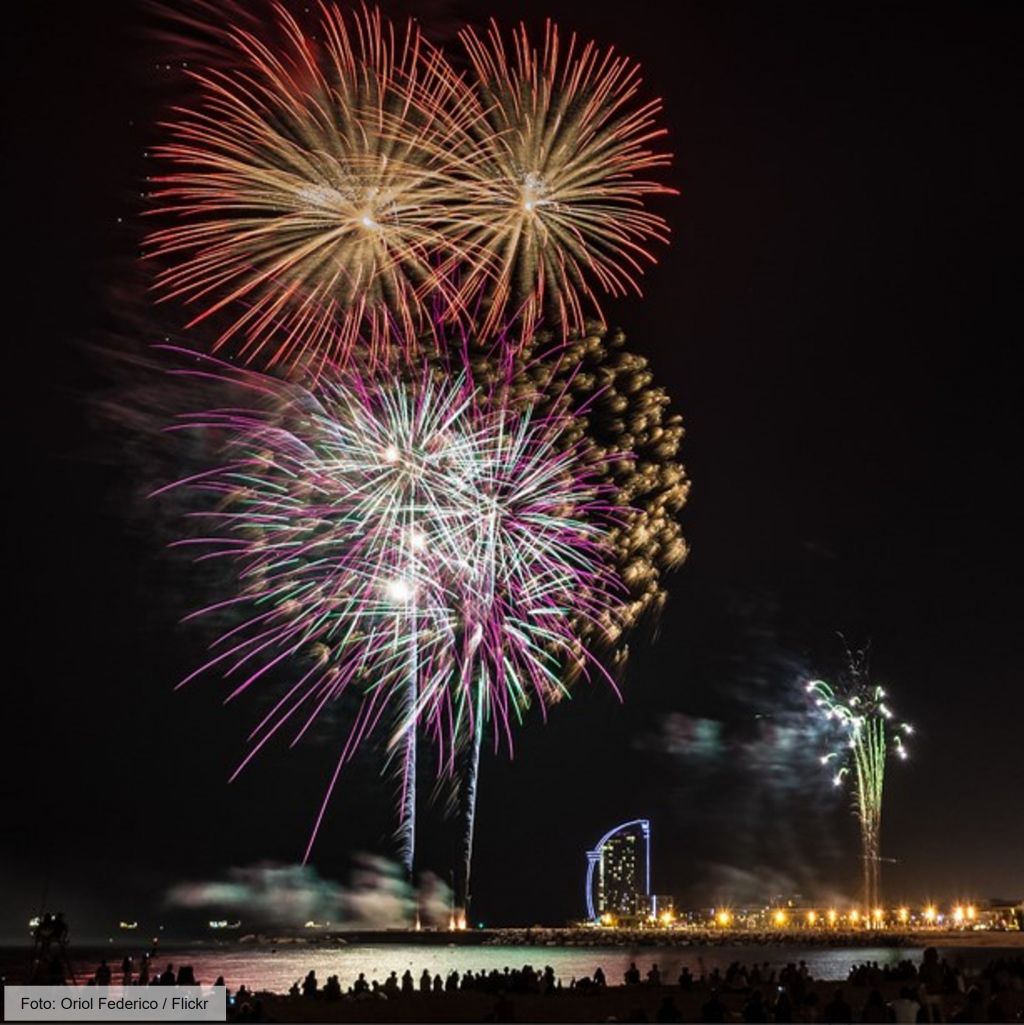 Between September 23rd and 26th we will live a party full of traditions that will take everyone to the streets of Barcelona for the celebration of La Mercè.
Every year the illustration of this event is designed under a concept, this 2022 was in charge of David de las Heras, Basque artist who has captured the 3 female generations of a family to show how over the years, this celebration manages to transmit tradition, culture and citizenship.
La Mercè, this year, returns with strength because it no longer has the restrictions of the last 2 years of pandemic. The main day is September 24, but the festival is extended from 23 to 26. The program is full of activities for all the public, between music, fireworks, shows and art, the whole city gathers at different points to toast to the beat of a feast of joy. Below, we tell you about the main celebrations.
Are you coming to Barcelona for a season? Check in this link what floors we have for you.
The traditional parade will take place on September 24 at 19h from Plaza Catalunya to Plaza Sant Jaume, where the usual giants will parade, enchanting everyone with their dances.
Among the most anticipated are the music concerts with options for all tastes. The BAM Festival (Barcelona Acción Musical) returns in style, and will feature local and international artists. This show can be enjoyed from different stages located in strategic points of the city, which are: the Moll de la Fusta Besòs stage, Moll de la Fusta Llobregat stage, the old Estrella Damm Factory and the Rambla del Raval.
Art is also present through the open day that allows free admission to various museums and other cultural activities.
Each year a different city is invited to participate in the celebration, and this time the colossal Rome is the chosen one, which also proposes certain shows, concerts, games and other activities to showcase its unique and exquisite culture.
The Piromusical cannot be missing in this great celebration. A fireworks festival is launched from Montjuic and we can see it from any corner. This is the magical closing of the Mercè and we all look forward to it, as the sky of the whole city explodes in joyful colors to the rhythm of music. On this occasion, 5 musical blocks have been proposed:
- Block 1: allusive to the guest city, Rome.
- Block 2: on the empowerment of women.
- Block 3: will celebrate the 175th anniversary of the Gran Teatre del Liceu
- Block 4: sounds of peace and against the world war
- Block 5: a burst of light, joy and dance.
This is how the great festival of La Mercè arrives once again to cheer us up and fill everyone with music and a lot of celebration. Here you can find the complete program.
Source: irbarcelona.com